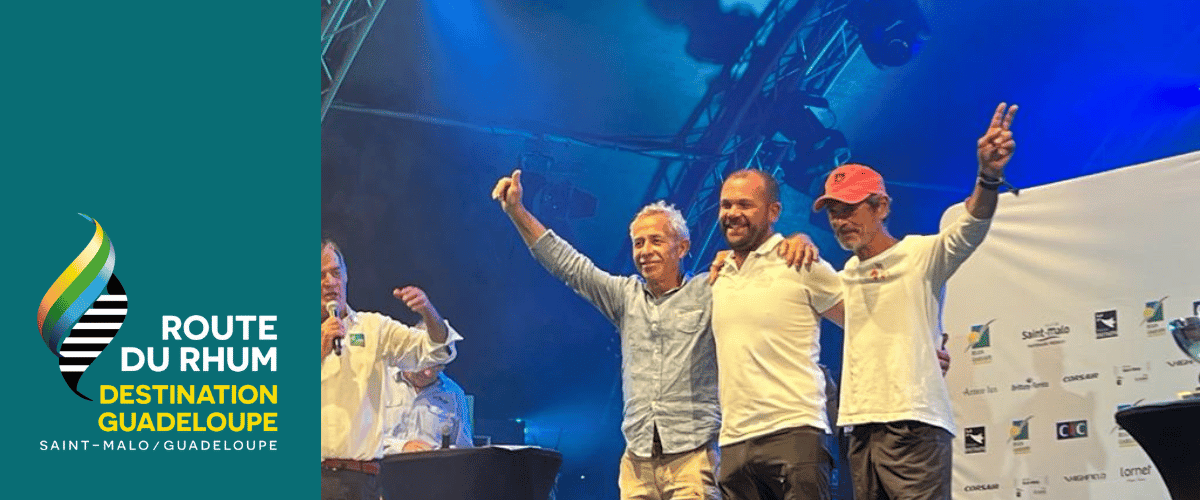 Following an epic race across the Atlantic, Roland Jourdain, onboard the Outremer 5X We Explore crossed the finish line of the 12th edition of the Route du Rhum on Friday 25th November 2022 at 15:06 (local time) having completed the race from Saint-Malo to Pointe-à-Pitre in 16 days, 5 hours, and 51 minutes after sailing 4,163 nautical miles at an average speed of 10.68 knots.
Upon arrival and inspections, Roland Jourdain was given a statutory time penalty of 90 minutes for a broken lead seal on his boat and therefore fell to second place behind Loïc Escoffier (Lodigroup) who crossed just over 43 minutes after the Outremer 5X. "Loic also got a penalty a few days ago and so it would not have felt right for me to win with a broken seal. It takes nothing away and I am delighted with my race. I was not trying to win and could not have dreamt for a better race. I am pleased for Loic; he deserves this victory." added a happy Jourdain.
"Today, we are very proud to celebrate with all our partners this superb finish in the Rhum Multi class, made possible by Bilou's talent. This really proves that a boat made of flax fibre works and validates the concept ", says Xavier Desmarest, co-founder of Groupe Grand Large Yachting and President of Outremer. He adds "The construction of this beautiful Outremer 5X We Explore with its fibres was a real technical feat made possible by the talents of all our teams. Seeing her on the starting line in Saint-Malo was already a victory. That the catamaran is in the lead is another! Thank you Bilou for having thrilled us throughout this Route du Rhum – Destination Guadeloupe. Now it's time to continue the story of this boat as a platform for developing an "island of solutions and well done Bilou!"
For this 2022 edition, the Breton sailor was on board an 18-meter long 5X catamaran, made of flax fibre and built in partnership with the Outremer shipyard in La Grande-Motte (Hérault, France). This is the first time that a multihull of this size has incorporated so many biomaterials. An alternative to fibreglass, developed by Kaïros Environnement for over 10 years.
By taking part in this event, Roland Jourdain wanted to "show that another way was possible in a race that has always been open to innovation", he declared before the start in Saint-Malo.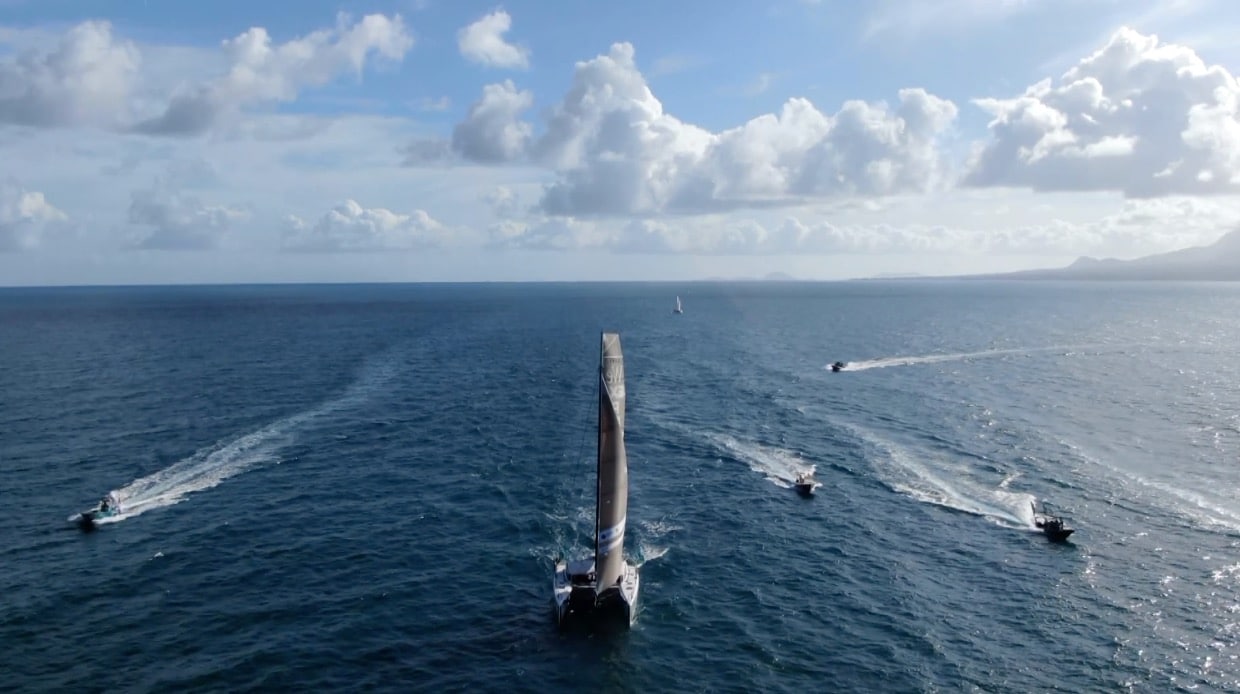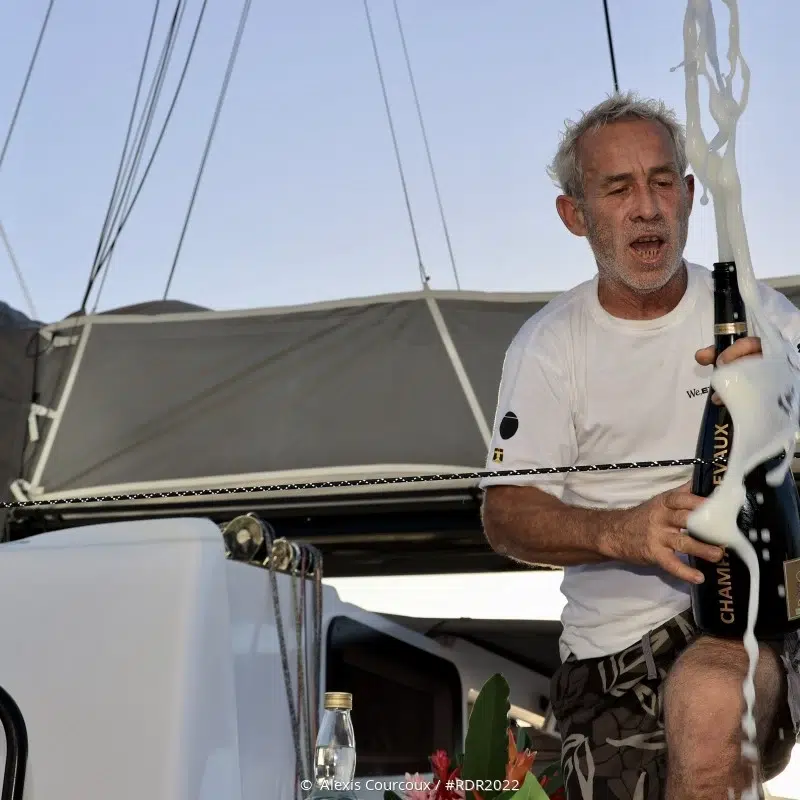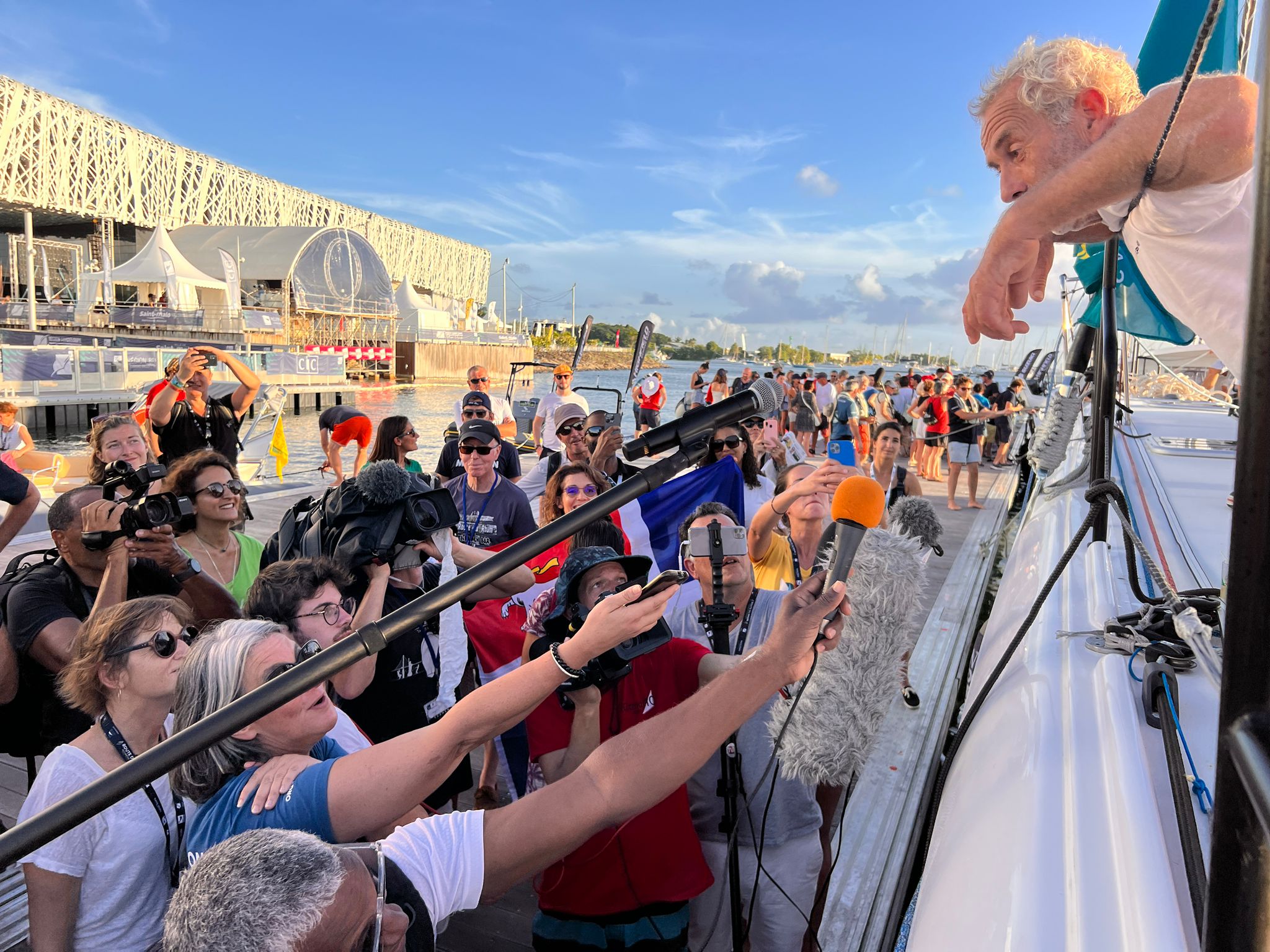 Watch the 5 episodes of the We Explore web series here:
Flashback of the arrival of the Route du Rhum:
The Route du Rhum, a legendary race
Created in 1978 by Michel Etevenon, the Route du Rhum – Destination Guadeloupe is the queen of solo transatlantic races. For 44 years, it has linked Saint-Malo in Brittany to Pointe-à-Pitre in Guadeloupe (West Indies) every four years, bringing together on the same starting line the biggest names in ocean sailing. This transatlantic race has become mythical: great sailing figures, professionals and amateurs come together to experience the "magic of the Rhum". The competitors must cover a total of 3,543 miles and start at the same time, on a single starting line. The first to arrive in Guadeloupe wins. A true Atlantic sprint to the finish line, the event brings together the world's largest and most powerful boats, sailed by their masterful skippers. The current record is held by Francis Joyon, the last winner of the 2018 edition, after 7 days 14 hours 21 minutes and 47 seconds at sea.
Outremer boats have participated in this legendary race in the Rhum Multi category several times before, including three in the previous edition in 2018: an Outremer 4X, an Outremer 49 and an Outremer 5X. Out of the 21 entries in the 'Rhum Multi' category, these three boats valiantly battled the bad weather, continuing to make their way in difficult weather conditions… even if the 5X No Limit was forced to give up in Portugal, after hitting a UFO. The 4X, designed in collaboration with Loïck Peyron (winner of the Route du Rhum in 2014), finished in 5th place. While Eric Gamin and his faithful 49′ Lilhadoc, in their first race, earned the 9th place.
Continue navigation

27 July, 2023
Outremer 51 becomes a testing platform for solar sails
Sea trials: Héole solar sails composed of flexible organic photovoltaic (OPV) membranes and fabrics were tested on an Outremer 51.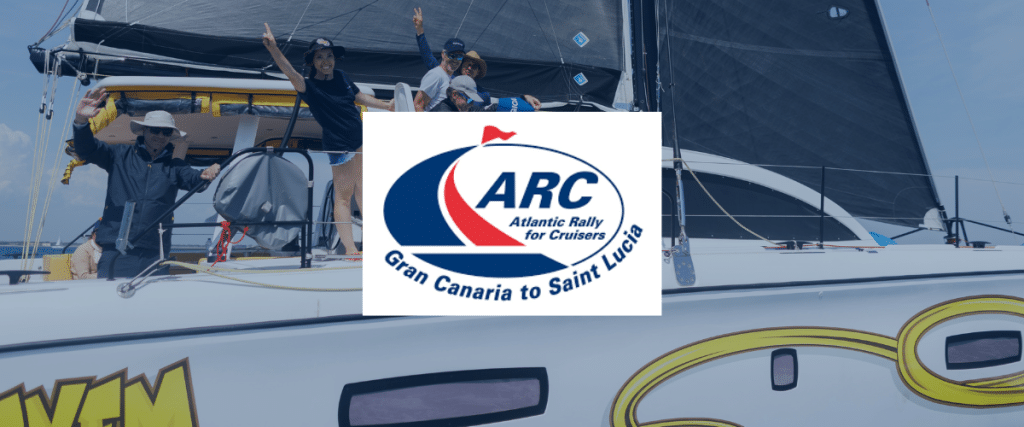 6 July, 2023
Record breaking number of Outremers registered for ARC/ ARC+
7 Outremer owners have decided to take on the challenge of the ARC+ rally and another 3 will be sailing the traditional ARC route, starting November 2023.