Building expertise: our catamaran construction principles
At Outremer every specification has to be precise and consistent with what the naval architect has drawn. During catamaran construction, he or she works in close collaboration with the designers and engineers to reach a harmonious end result.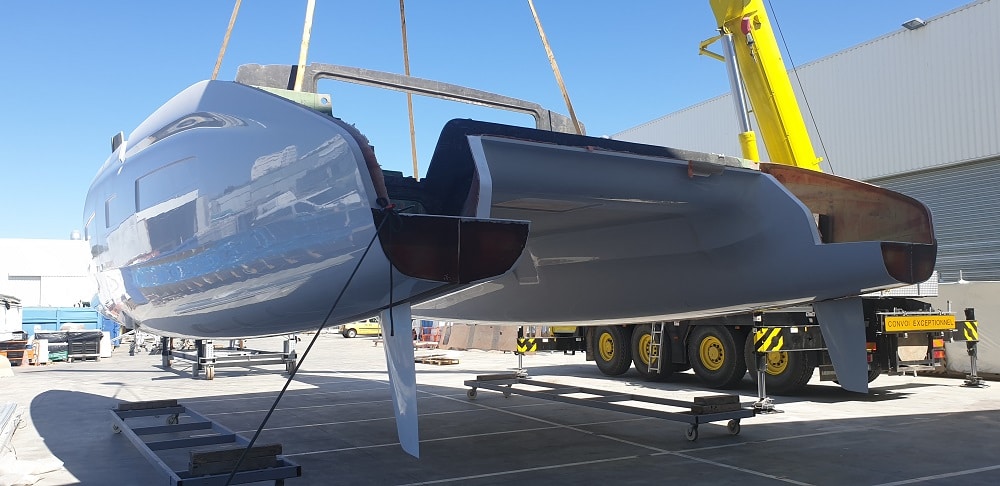 Safety, reliability, performance, comfort, and pleasure are the key words throughout the design of an Outremer blue water catamaran.
Architecture
Designing the ideal boat
Naval architects translate specifications into lines and volumes:
Hull designs carefully studied and optimized; long, to carry the required load and reduce forward resistance. Fine hulls demand, in effect, little power to make the move and allow them to maintain high average speeds under way. Not just that, but also to be able to use only one motor when there is no wind, reducing the amount of noise in the hulls when some of the crew are off watch, and also doubling the range under power.
Windage is limited for maneuvers in port and for better holding at anchor.
Centering the weight: a very low center of gravity, and weight distribution around that center of gravity – all these unseen elements add to the quality of sailing and reduce pitching movement.
Fine bows absorb pitching and help produce high levels of comfort under way.
Daggerboards for sailing to windward, going faster when close-hauled and being able to reach otherwise inaccessible anchorages. Sailing close-hauled on an Outremer catamaran is worthy of the best monohulls, even in the hardest of conditions.
Catamaran construction principles: how are Outremer multihulls made?
The methodology of the Outremer boatyard: putting forward a blend of high-tech technologies and know-how. Blue water cruising programs require significant safety margins: you need to be able to count on your boat in all circumstances!
Even though the philosophy of the yard of is to reduce weight, this must never be done to the detriment of the structure, and our designers are committed to reinforcing the essential areas: the bows are protected by several watertight crash-boxes, the lower part of the hulls are resistant to collision and knocking, the daggerboard wells are indestructible as the daggerboards act as a fuse, making it insubmersible as a result.
Even though modern composites such as those found in sandwich construction are essential materials for saving weight, an Outremer always has the lower part of the hull built in a very thick monolithic laminate: in the event of collision, no structure in sandwich construction could compete with the strength of an Outremer hull. The structure is completely laminated in the hull, and not simply glued on: there is no backing mold interfering with access to any part of the underwater hull, and all the systems remain visible and accessible.
The stiffness of an Outremer catamaran is incomparable
The main bulkheads are of large dimensions, and so are able to take much greater loads than a cruising multihull might encounter. Inserts in carbon fiber, closed-cell foam, isophthalic resins and high-resistance polyester: everything is designed to guarantee your safety for offshore sailing.
For the furnishings, sandwich panels are used to reduce weight, with wood veneer for warmth and aesthetic appearance. The furnishings do not add to the rigidity, and are insulated from the structural parts to reduce unwanted noise, creaks and groans. Aluminum structures support the floors, which don't squeak either. No more wedged doors or drawers that won't shut. For the equipment, we choose brands and makes for their quality, their reliability and their suitability with the boat's program.
An Outremer is designed to be around for over fifty years
Owners change over time, all with ambitious projects and wanting to replace or add certain equipment to their cruising catamaran! In this respect, we apply four golden rules: every part of the boat and every system installed must be documented, be accessible, able to be checked and be replaceable.
Today, more than three million miles have been sailed by our multihulls on every ocean, most of them cruising tropical seas, though many have seen extreme conditions, ranging from Alaska to Patagonia. The huge amount of experience accumulated by Outremer has allowed us to refine and consolidate our principles of catamaran construction.