 Our 52-foot catamaran, the best of two iconic models
Seaworthy and smart for the ultimate cruising experience
The avant-garde, new benchmark for blue-water cruising
The Outremer 52 has been designed based on the observation of the owners' needs and uses. While performance and safety have always been the basis for the design of Outremer blue water catamarans, simplicity of navigation and quality of life on board are the two essential components that completes the specifications of Outremer teams. Surrounded by the best naval architects (VPLP), and great names in French design (Patrick Le Quément, Darnet Design, Saguez & Partners), the Outremer shipyard has engineered a smart and seaworthy 52-foot catamaran for the ultimate bluewater cruising experience.
Gallery
Virtual tour
Coming soon...
Characteristics
Outstanding visibility
Since the performance of a catamaran is largely determined by its weight, ingenuity was required to build the structure of this new model. An innovative technology developed by the Gunboat shipyard (also a member of the Grand Large Yachting Group), has made it possible to reduce the weight of the structure, while maintaining a high level of resistance. This has made it possible to increase the glass surfaces and openings in the boat that allows crews the reassuring benefit from increased visibility during navigation, regardless of their position in the saloon or cockpit.
Whether for ocean crossing, sailing around the world, or along the coast, this 52-foot catamaran will make sailors and their families feel both safe and comfortable on their liveaboard boat.
Improved user experience
This new model has been designed to make life on board easier in all circumstances. While it benefits from the upgrades of the Outremer 55, such as the different helm positions, the front view from the saloon and the helm bench adapted for two people, the Outremer 52 goes even further. The architectural communication between the interior and exterior living spaces allows for better watchkeeping on board: at the bar area in the cockpit, for example, it is possible to have a meal while continuing to keep watch ahead. At night, watches can be taken from the saloon's bench which was designed in the direction of the navigation.
Inviting space
Everything has been carefully thought out to allow the enjoyment of every aspect of life on board.
The Outremer 52 is a blue water cruising catamaran filled with natural light, offering living spaces adapted to long voyages. The common living spaces have been designed to facilitate circulation on board, to extend the feeling of wide-open spaces and to allow for festive moments with family or friends.
The full opening of the bay window allows easy circulation and creates a convivial space between the cockpit and the saloon. The kitchen's work surface is open to the interior and exterior spaces of the catamaran, and will undoubtedly be a privileged place to meet at any time of the day.
Customized and modular interior designs
To meet the very different needs of each catamaran owner, Outremer has designed a modular space called My Free Space. Located in the port forward cabin, this space can cover five different uses:
a double cabin
a convertible office with bunk beds
a modular cabin, with an office convertible into a workshop, a folding bench and numerous storage spaces
a dressing room
a child's cabin
Technical specifications
Architects
VPLP
Design consultant
Patrick Le Quément
Interior designer
Darnet Design
Length
51.6 ft
Beam
25.9 ft
Draught
3.5 ft/ 6.7 ft
Air draught (without antenna)
75.5 ft
Displacement
12,5 t / 15,7 t
Sail plan
- Mainsail
- Genoa
- Selftacking jib
- Gennaker (optional)
- Spinnaker (optional)

1023 ft² (95 m²)
646 ft² (60 m²)
484 ft² (45 m²)
1507 ft² (140 m²)
2271 ft² (211 m²)


CE approval
8/26 p
Engines
2 x 50 HP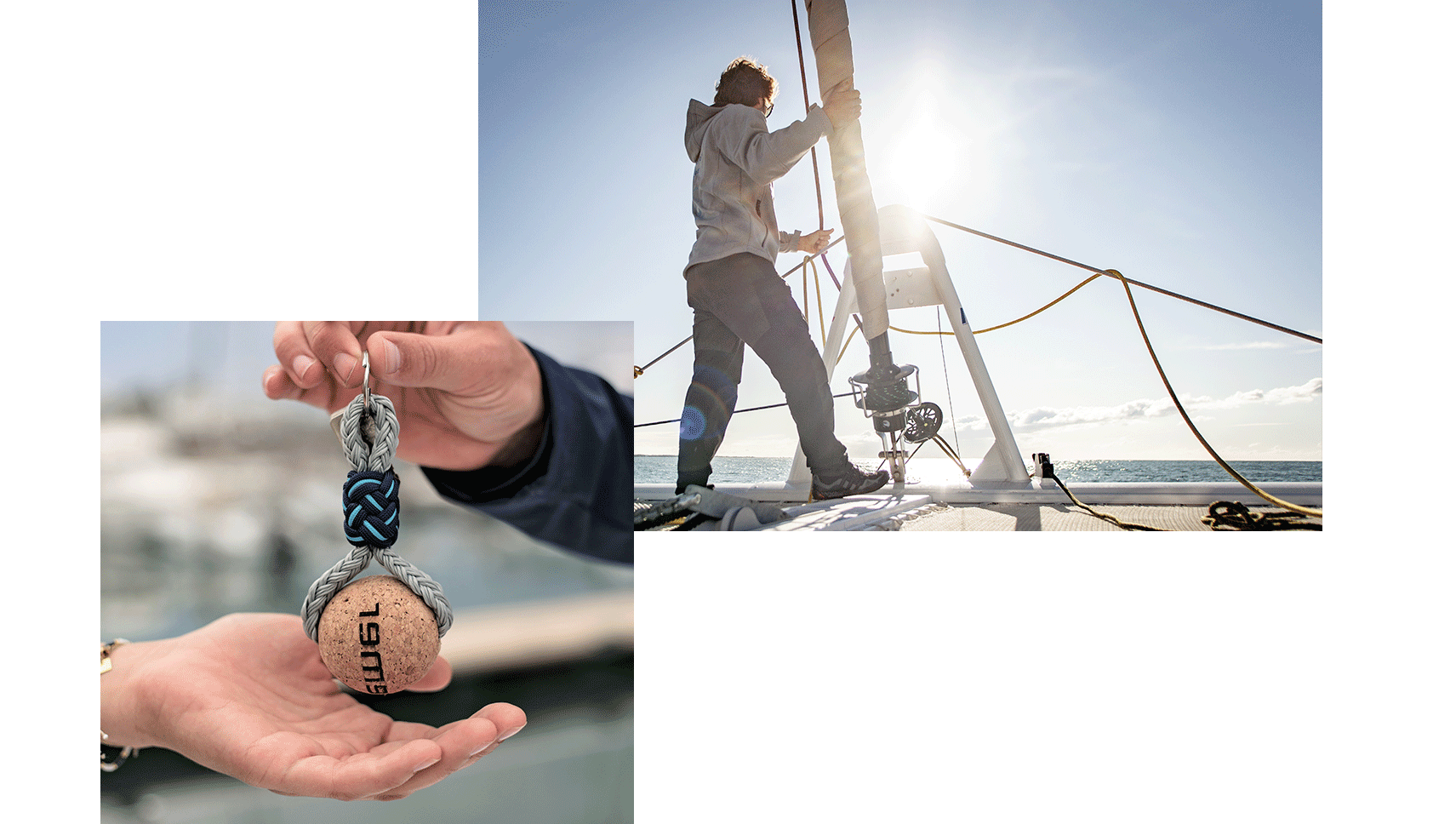 Support
Beyond building your boat, Outremer brings your dreams to life by being by your side at every stage of your project. To always better support you, we have created Outremer Services. This structure, integrated within Grand Large Services is able to meet all your needs, from the start of your project to the resale of your catamaran.
Seminars on the theme of blue-water cruising, training on land and at sea, charter, concierge services, refit, a network of approved partners around the world, OCM ™ e-maintenance and lastly brokerage. We offer complete and personalized support according to best fit your needs.
Find out more
Brokerage
Impatient, not sure you can invest in a new catamaran or simply curious? See our latest second-hand boats on offer. Please note that the demand is high, don't wait to contact us.
See what's available
Charter an Outremer
SHORT TERM CHARTER WITH SKIPPER
From the legendary Outremer 45 to the acclaimed Outremer 55, not to forget the 51 and the 4X, you will find a wide range of Outremer catamarans to charter, depending on your model of interest.