 The ultimate family cruiser
The benchmark for blue water cruising
With a load capacity far greater than that of the Outremer 45, this best-selling family boat from the Outremer range, twice awarded European Yacht of the Year and Boat of the Year in the United States, is the benchmark cruising catamaran for families sailing around the world. Powerful yet easy, with unequaled resilience, it has proven itself on all the seas of the globe.
Gallery
Virtual tour
* non-contractual virtual tour, this does not necessarily represent the standard version of the boat
Characteristics
A perfectly protected and comfortable cockpit
The rigid bimini allows the whole cockpit to be protected and to completely isolate external elements thanks to protective covers. The U-shaped cockpit is particularly well protected, especially for young children. The cockpit table, in two parts, is easy to install, but it can also be transformed into a bed while keeping a table that can be used for meals on the side.
A customizable sail plan
You will enjoy a large choice of sails and rig: self-tacking solent, genoa, staysail, carbon or aluminum mast, fixed or rotating. To better adapt to your tastes and preferences, your sail plan can also be adapted! For sailors who want to favor ease of handling and simplicity, the self-tacking solent and a downwind gennaker will allow you to go to the far side of the world with the greatest of ease. Demanding sailors may prefer a genoa combined with a staysail, a gennaker or even a spinnaker. To lower the center of gravity and further improve performance in light airs, a carbon mast, possibly a rotating mast, is a good choice.
A comfortable payload
The hull is designed to accommodate all the comfort elements needed for blue water cruising. A beautiful tender, a watermaker, a washing machine, of course, but with more than 3 tons of possible payload, you can also add a generator, air conditioning, a dive compressor or heating, and beyond that, bikes, surfboards and paddleboards will keep you busy at stopovers, and children will be able to take all their favorite toys with them…
Technical specifications
Architects
Barreau/ Neuman
Design consultant
Patrick Le Quément
Interior design
Darnet Design
Length
51.3 ft
Beam
24.8 ft
Draught
3.1 / 7.7 ft
Air draught
75.7 ft
Displacement
11.2/ 14.1 t
Sail plan
- Mainsail
- Selftacking jib
- Gennaker
- Spinnaker

91 m2
40 m2
110 m2 (option)
160 m2 (option)
CE approval
8/ 16 p
Engines
2 x 50 HP
Testimonials
OUTREMER 51 EIMATA VAA, FLORENCE & PHILIPPE
We needed a seaworthy boat, that would sail upwind with ease, that was fast and sturdy... We found all of this in our Outremer.
OUTREMER 51 KOKO KIWI, MARK
Outremer successfully created a boat that encompasses speed, simplicity, luxury and safety. For us this relates to good times, beautiful places and great family experiences.
OUTREMER 51 MOBY, BENEDICTE & LOÏC
It was the boat that really offered the best compromise between performance, comfort and speed for a rather demanding program of a round-the-world trip in two and a half years.
OUTREMER 51 TWO CANOES, RICHARD
It's not just any company that would tell you: cut back because it's better for you. And immediately it hooked me.
OUTREMER 51, RODOLPHE
This boat is very well finished and pleasant to cruise with. Her performances do not make you regret having moved from a monohull to a catamaran. The tiller bars even offer sensations worthy of a light dinghy.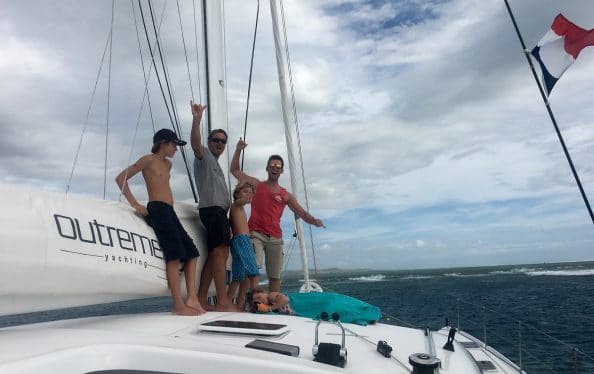 OUTREMER 55
« Saga Voyage »
The Héliès family
A family of passionate sailors from Brittany, with four children: the father, an airline pilot and the mother, a company manager, have been sailing all around the globe. After a round the world adventure onboard their Outremer 51 Moby, they have recently switched to a 55ft catamaran named Saga!
Do you have any questions?
What changes has the Outremer 51 undergone?
Launched in 2009, the Outremer 49 immediately met with success and won prestigious awards.

In 2013, a major survey of owners identified many areas for improvement, including a lengthening of the hulls to 51 feet.

In 2018, the success of the 51 was still undeniable, as evidenced by the hundreds of thousands of miles sailed by many families around the world! The 51 has become the benchmark for blue water cruising catamarans, and has been given a facelift! Additional weight savings, a redesigned interior, more ergonomic and contemporary (upgrading of finishes, redesign of the galley area), and above all a reinvented cockpit living area with greater modularity.
Is sailing on a 51' as easy as on a 45'?
Absolutely! Even if the mainsail surface is a little bigger, all the maneuvers are just as accessible and at the end of the day there is only a 3 feet difference between the 2 models!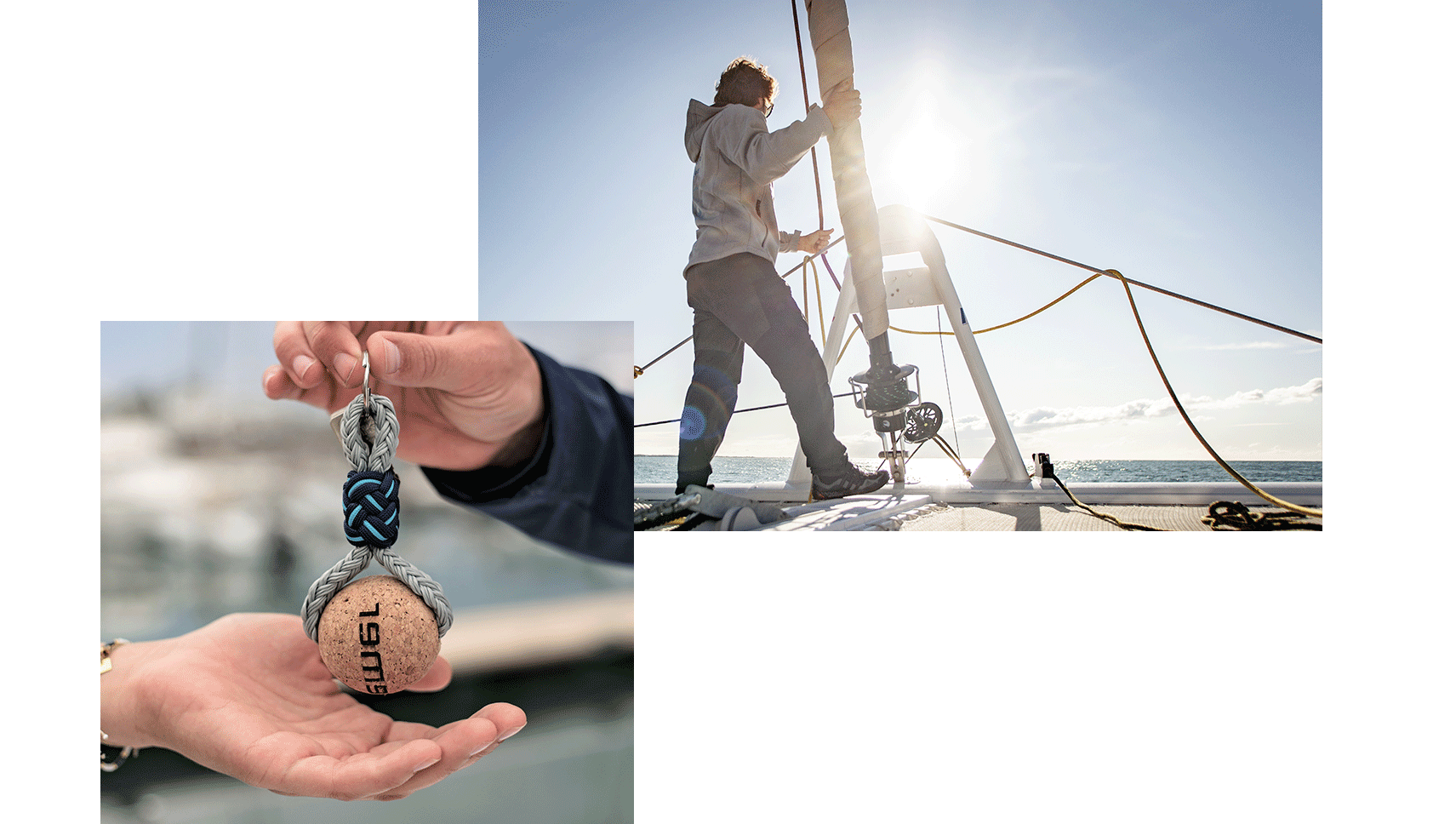 Support
Beyond building your boat, Outremer brings your dreams to life by being by your side at every stage of your project. To always better support you, we have created Outremer Services. This structure, integrated within Grand Large Services is able to meet all your needs, from the start of your project to the resale of your catamaran.
Seminars on the theme of blue-water cruising, training on land and at sea, charter, concierge services, refit, a network of approved partners around the world, OCM ™ e-maintenance and lastly brokerage. We offer complete and personalized support according to best fit your needs.
Find out more
Brokerage
Impatient, not sure you can invest in a new catamaran or simply curious? See our latest second-hand boats on offer. Please note that the demand is high, don't wait to contact us.
See what's available
Charter an Outremer
SHORT TERM CHARTER WITH SKIPPER
From the legendary Outremer 45 to the acclaimed Outremer 55, not to forget the 51 and the 4X, you will find a wide range of Outremer catamarans to charter, depending on your model of interest.