Blue Water Sailing Seminars
Beyond postcards or preconceived ideas, is boat life for you?
An exclusive creation of the Grand Large Yachting group, the Blue Water Sailing Seminar has been a growing success for over ten years. Quite simply, because it allows you to take in all the information you need to plan your blue-water cruising journey.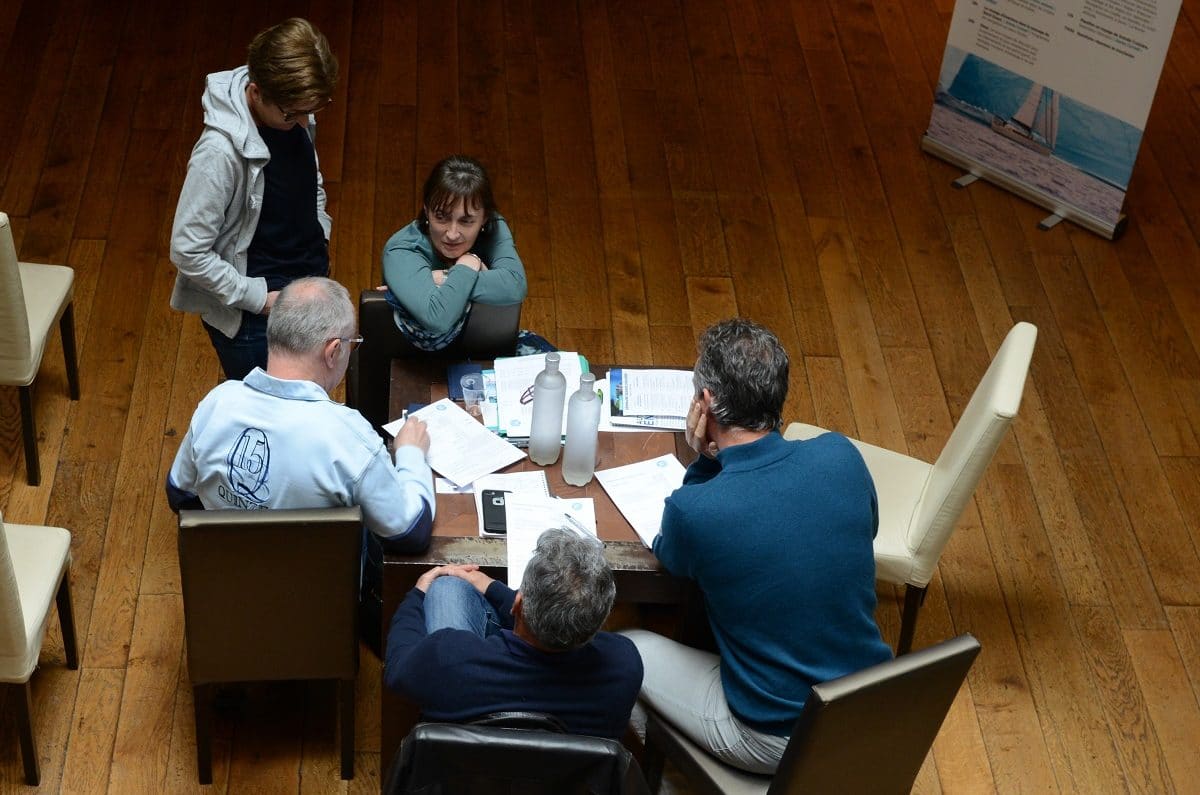 An annual meeting in Paris
The Grand Large Yachting Group's Blue Water Sailing Seminar offers you a two-day immersion focusing on the key factors for the success of long-distance voyaging: meteorology, route planning, active and passive safety, health on board, communication, but also photography on board…
Meals and breaks are rich in exchanges between listeners or with the experts present.
This seminar owes much to the inspiration, support and involvement of Jimmy Cornell: navigator, author of works of reference, multilingual speaker and rally organizer. He is usually present over these two days to exchange ideas.
Private event, open by invitation only.
Webinars all year round, open to all
In the current context, where we are looking more and more at ways to escape, the Grand Large Yachting group is convinced of the scope and relevance of the themes of Blue Water Cruising.
This is why, condemned like you to virtual ocean dreams, we regularly hold Blue Water Cruising Webinars.
Free for all Internet users, the Blue Water Cruising Webinar is based at this stage on four online sessions calling on the expertise of recognized speakers such as Jimmy Cornell, Christian Dumard, Jean-Yves Chauve and Didier Ravon.
#1 "Blue water cruising today", by Jimmy Cornell
A look at what's on the horizon for Blue Water Cruising in 2020, with Jimmy Cornell, specialist in long-distance sailing and author of several reference books for circumnavigators. He is also at the origin of many oceanic rallies such as the ARC, and has completed five trips around the world. Born in Romania, Jimmy Cornell became a reporter for BBC World. At the age of 35, he took his family on a six-year, round-the-world tour on a sailboat. They explored 70 countries. At 80 years old, he is an essential reference.
#2 "Offshore weather and routing", by Christian Dumard
Christian Dumard is a weather router by trade. He routed Francis Joyon – Trimaran IDEC during his last Route du Rhum – Destination Guadeloupe, of which he came out the winner ahead of François Gabart.
#3 "Preparing your boat for blue waters", by Pete Goss
Pete Goss is a British yachtsman and former Royal Marine, who has sailed over 250,000 nautical miles (460,000 km). He was invested in the Legion d'Honneur for saving fellow sailor Raphaël Dinelli in the 1996 Vendée Globe solo around the world yacht race. Author of the bestselling book Close to the Wind, he now splits his time between his ongoing adventures and delivering inspirational and motivational talks to organisations around the world.
#4 "Boat maintenance and blue-water sailing", by Loïc Heliès
Loïc Héliès is an air pilot and experienced sailor having accomplished multiple circumnavigations with his wife and children.