Are you tired of the daily grind of a traditional office job? Do you long for the freedom to travel and explore the world while still earning a living? If so, you may be interested in the growing trend of working remotely while sailing around the world. This lifestyle offers a unique opportunity to see the world from a different perspective while maintaining your career. A route that David and Inês, onboard the Outremer 5X Nuvem Magica have decided to take. Read more about their decision to work remotely and sail around the world below.
Who are David & Inês?
David Dias & Inês Pereira are a Portuguese couple that has always worked in a global mindset. Coming from different industries, namely Internet Infrastructure (David) and Medicine & Computational Neuroscience (Inês), they have been enjoying the flexibility of working on the Internet to explore the world.
Though many have just recently had a taste for remote work or work from home policies due to lockdowns, this has always been second nature for David and Inês, since long back before the pandemic. David was lucky enough to have never had to commute to an office: all of his professional life has happened where his laptop and a cup of coffee are. 
The flexibility of working from anywhere was paramount to the past 8 years spent building his company Protocol Labs. This is because David could work with anyone, anywhere and leverage the worldwide talent pool rather than concentrating on a single location. Before Protocol Labs, David put together multiple large tech conferences in hubs like Lisbon, London, San Francisco (and even one in the Arctic Circle!) and worked with other organizations as a Consultant, Security Analyst, Pentester and Business Developer. David firmly believes that the future of work is cross borders. Through the years, he has developed techniques to secure a good Internet connection, often carrying a backpack of gadgets.
Inês evolved from being a physician focused on clinical work in the field of Neurology, to taking on the challenge of switching careers and becoming a "techie" herself. Now working full time as a Computational Neuroscience Researcher and finishing her PhD, Inês has organized international conferences, maintained open-source software and is very excited about Science Communication, especially around the topic of Multiple Sclerosis and Fatigue, her research focus. 
"Digital nomads" of the sea
The term "digital nomad" was first coined in the early 2000s, although there is some debate about who actually first used the term. Some sources credit the American author and consultant Tsugio Makimoto with popularizing the term in his 1997 book "Digital Nomad." Others attribute the term to the British author and entrepreneur Steve Roberts, who in 1983 began a 17-year journey living and working from a custom-built recumbent bicycle equipped with various technological devices.
Regardless of who first used the term, it became more widely recognized in the early 2000s with the rise of remote work and the increasing availability of digital technologies that enabled people to work from anywhere with an internet connection. Today, the term "digital nomad" refers to individuals who use technology to work remotely and travel frequently, often living a location-independent lifestyle.
It makes sense to coin Inês and David as digital nomads. However, they haven't designed their life around the travel lifestyle and picked up a job to suit it. "We picked our passion for career and then leveraged an open world to work with the best people, while enjoying the places we visit. The difference is subtle in theory, but the practice is that we end up focused more on working with individuals all over the world rather than enjoying specific aspects of the place we are visiting." – Says David.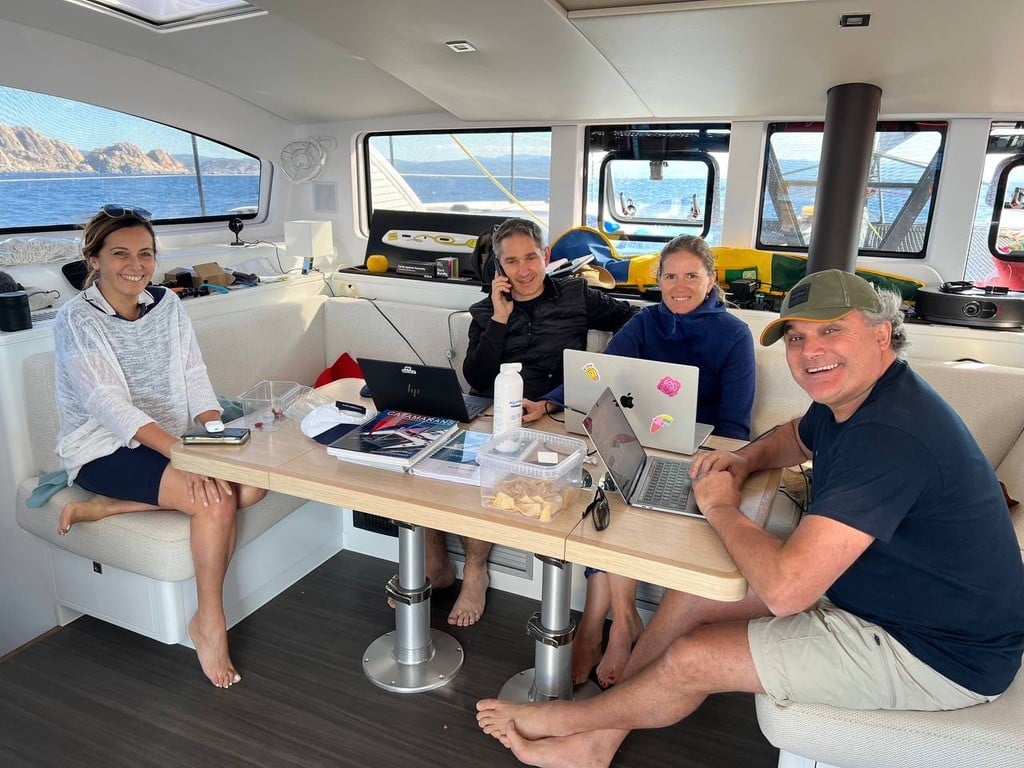 The advantages of working from a boat
Inês and David have tried (and still often take) the camping-car route. A camping-car is indeed an excellent option, but it is ultimately a more crowded space, with less flexibility to invite friends and family over. You also have to be much more active when it comes to finding a place to dump your gray and black water, fill water tanks, fuel, etc.
With a boat, you can invite all your friends to enjoy weeks at a time (fun fact, it took them a month and a half until they actually did their first solo sail. Every other week, they always had friends over).
The reality of working from an Outremer
There are many factors to consider when working from a boat. You are constantly being carried by the movement of the waves, can have trouble finding a decent connection, can be interrupted at any time by what's going on outdoors, have to deal with limited electricity, etc.
David however, sees these inconveniences in a different light: "The motion is fine, when it is rocking too much we work from the Nav Station. When at Anchor, we can use the full office install we have in one of the cabins. Power is secured by our combo of Solar Powers + Generator and Internet is secured by a combo of a Pepwave device which gives 5G+Wifi connectivity, in addition to Starlink, for offshore high speed Internet connection!".
He considers a boat as a comfortable workspace, with mainly a lot of neat advantages like going for a dive between two calls or simply being mesmerized by beautiful surroundings. As for noises, there simply haven't been any and collaborators don't even realize that they are on a boat (the noise canceling headphones help with apps like Krisp and virtual backgrounds). 
To make this all work, they have spent some time preparing the whole set up and have advised many other Outremer owners since then. The team at Outremer provided help when it came to battery dimensioning for the power consumptions and in the end, the result is exactly what they had hoped for.
Choosing the boat
They had tried a monohull first, one that they could repair themselves and use to learn the core of sailing and boat maintenance. Nevertheless, it became clear that they needed more space. After doing some extensive research, they decided that Outremer was the obvious choice as it was recommended by multiple sources (the Catamarans book, Sailing Youtubers that sail with their family full time and legendary sailors like Nikki Henderson).
David says: "On top of being formidable catamarans, the Outremer team has also been stellar in the construction of the cat and getting it ready to match our needs, plus it has offered great after sales support and created a very warm and friendly community which is incredibly supportive. We couldn't be happier!"
Living the yachting life
David & Inês have ambitious plans for the next few years. In 2023, they plan to cross the Atlantic, sailing for the first time, by joining ARC+. They will be staying in the Caribbean area until May next year, where they will cross back with ARC Europe. After that, they plan to head towards northern Europe, to explore and discover the winter onboard a catamaran, taking their splitboards (think Snowboard + Skitouring) and earning some turns in Scandinavia. Then back to the Med in 2025 to join the rest of the Outremer family and take off for the Grand Large Yachting World Odyssey rally in 2025. With this, their goal is to visit the world while working from their catamaran.