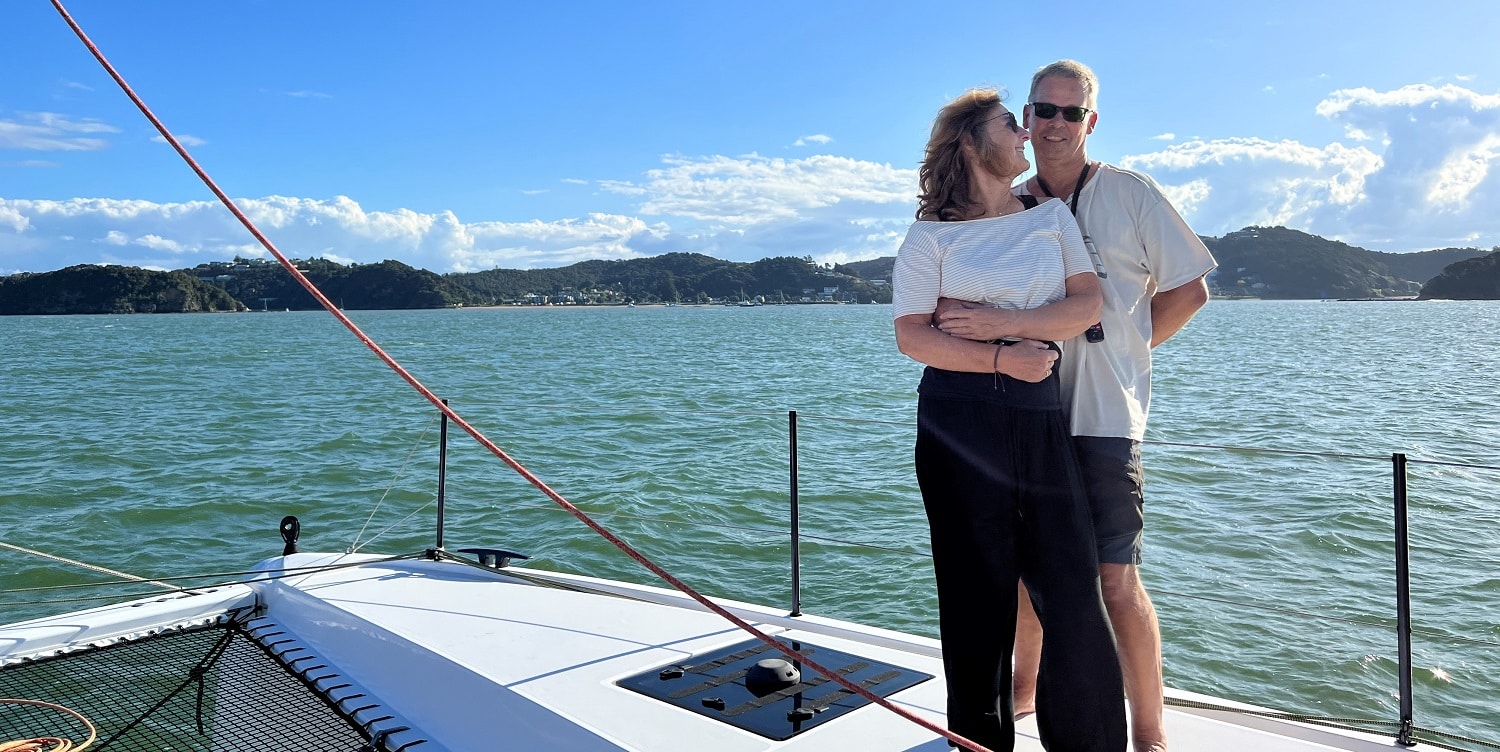 Sailing the Outremer 55 Greatcircle for the first time with the Grand Large Yachting World Odyssey, Mark & Marijke feel in their element, happy with the support and being surrounded by a like-minded fleet of sailors. They have already sailed 18176 NM since delivery about a year ago and are now enjoying a pause on land with friends and family.
Find out more about their experience with Outremer and the reasons that motivated them to join the rally here:
They also sent us a short update of where they were at just before leaving their boat mid november. Read more below!
Authors: Marijke & Mark
Kia ora from down under, we made it halfway around the world!
Yesterday we sailed the last leg from Opua to Whangarei in New Zealand where Greatcircle will be allowed to take a break after all the excitement in the past year.
It's safe to say, and we have said it a couple of times already, that we wouldn't even be here without the continuous support of Outremer literally all around the globe. The Outremer 55 has been meeting and even exceeding all of our expectations but still stuff is going to happen crossing unknown waters.
Being part of the GLYWO family has given us a secure feeling and of course a lot of fun, both on and off the water. Even when we can easily sail the boat just the 2 of us having a wonderful third crew member like Tina, Thomas and lately Elisa has, especially on the longer crossings made our adventure both more comfortable and great fun.
As we are cooling down now in New Zealand it has been a year long warm summer full of extremely blue waters, exotic destinations and making a lot of new friends. It really is an experience of a lifetime, even though we're not planning to stop gathering those.
We will take a break and fly back to Europe for a couple of months, the journey will continue after the cyclone season in March 2023.
PS for the next GLYWO family, who are maybe already preparing for their circumnavigation : there is plenty of support but being self-sufficient with a lot of redundancy already is a perfect start. It's (still) really not easy to get the stuff you need to the remote parts of this world. Really happy with the choices we made in the areas of comfort and redundancy and we have seen that the performance of the boat has hardly suffered from this. Next time we would bring our own antifouling along, like some of our current GLYWO friends already did.