Author: Nikki Henderson
On the eve of the Fastnet finish and with the Outremer Cup less than a month away, racing was back on my radar.  For any of you who are about to stop reading because racing isn't your "thing", bear with me. I'm not about to bore you (or myself) with 1500 words on race strategy, sail material, and hull shape. 
People often say to me: "I bet you just can't sit still when you are cruising. You are too much of a 'racing sailor'". 
I smile and respond, "You'd be surprised. With a good book, a nicely set sail, clear skies, and a fun crew – I'm as relaxed as anything." 
In fact, most of my 'racing sailor' friends take cruising holidays of some sort: be it pottering about the West Indies for Christmas, or sleepy sunny days drifting on the Norfolk Broads. 
So, if us racing sailors can cruise, then in theory cruisers can race?  Yes! I'd argue that all cruisers, day sailors, weekends – whatever your preferred label is – could really benefit from giving racing a go. And this is what this blog is about: how racing has helped me, and how it will help you to become a seriously good cruiser.
You learn how to get the most out of the boat.

You learn how to get the most out of the conditions and weather.

You stretch your comfort zone and become a better leader.
1. The boat
In July, I joined a group of friends to take part in the Gotland Runt Race, an offshore race out of Stockholm. The crew were a group of seriously fun, seriously competitive sailors. It was an intense 3-day-3-night experience. We joked how on the first night there is always a muttering "why did I decide to do this again?" Racing, or in fact any type of offshore sailing, is hard work physically and mentally, accentuated by sleep deprivation. But in typical fashion, the moment we crossed the finish line we began excitedly planning next year's race.  A friend of mine once described racing as a bit like having a baby: the memory of the pain and suffering quickly disappears and soon you want another one.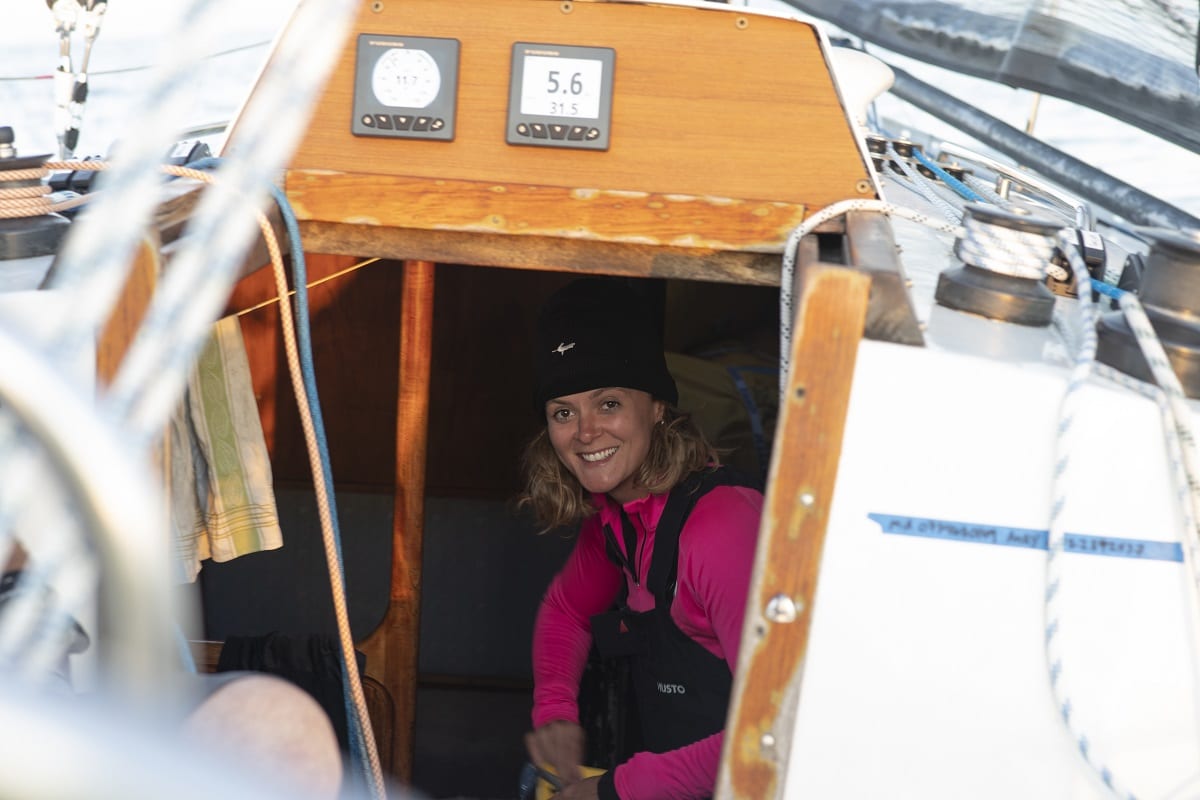 Following the race, Andy, Mia, their 16-month-old baby Axel, and I spent 3 days cruising the Swedish archipelago. We pottered through the islands, swam every morning, ate good food and decompressed. 
I distinctly remember one afternoon sailing close by another yacht. As the wind shifted we barely paused our conversation; not bothered by the drop of speed or slightly poor course. Conversely, the other yacht was frantically trimming; naturally embracing the competitive aspect of our proximity to each other.
We pulled ahead of them substantially over a few hours despite their bigger waterline length and potential speed. Looking up at our sails and at the boat, I realised how much we had learned about Spica (the yacht) in that past week. We had learned where to put the cars for each sail, how much twist she likes, what kind of angle to the wind she sails well at upwind, the heel angle, the sail choice, when to reef… in other words, we had learned how to optimise her performance for safety and speed. We were sailing the boat at maybe 80% of her potential, whilst barely lifting an eyelid and without putting Axel at any risk.
What we learned racing would have been impossible to learn in three days of cruising, as well as being very irritating for any non-sailors onboard (Axel) who just want to take things easy. 
The biggest limitation for any cruiser is knowing their boat. Let's say you have an Outremer 45. This is a boat that I have sailed in 60 knots of wind in the North Atlantic and averaged 12 knots VMG to avoid a huge low-pressure system.  However, I expect many Outremer owners feel nervous to sail in 20 knots of wind and feel overwhelmed at the thought of a 60-mile passage in a day. 
Once you have pushed your boat to the edge, you will become a safer sailor because you will no longer be guessing. After experiences in higher winds than you will ever cruise in, decisions on reefs will be simple, there will be notes on correct sail set ups for certain sea states, and you will have a host of tricks to help you sail more safely such as dagger board trim or ballast. You will have a greater understanding of how fast the boat can safely go and in what direction, and how to make it happen. This is of paramount importance, particularly if you are trying to avoid bad weather or reach a safe haven, or have a medical emergency.
If you are drawn in by the idea of juxtaposing racing and cruising as I did in Sweden, I can recommend a winter in the Caribbean. Having spent four seasons island hopping from regatta to regatta myself, I can assure you: it's a perfect breeding ground to build confidence both racing and cruising.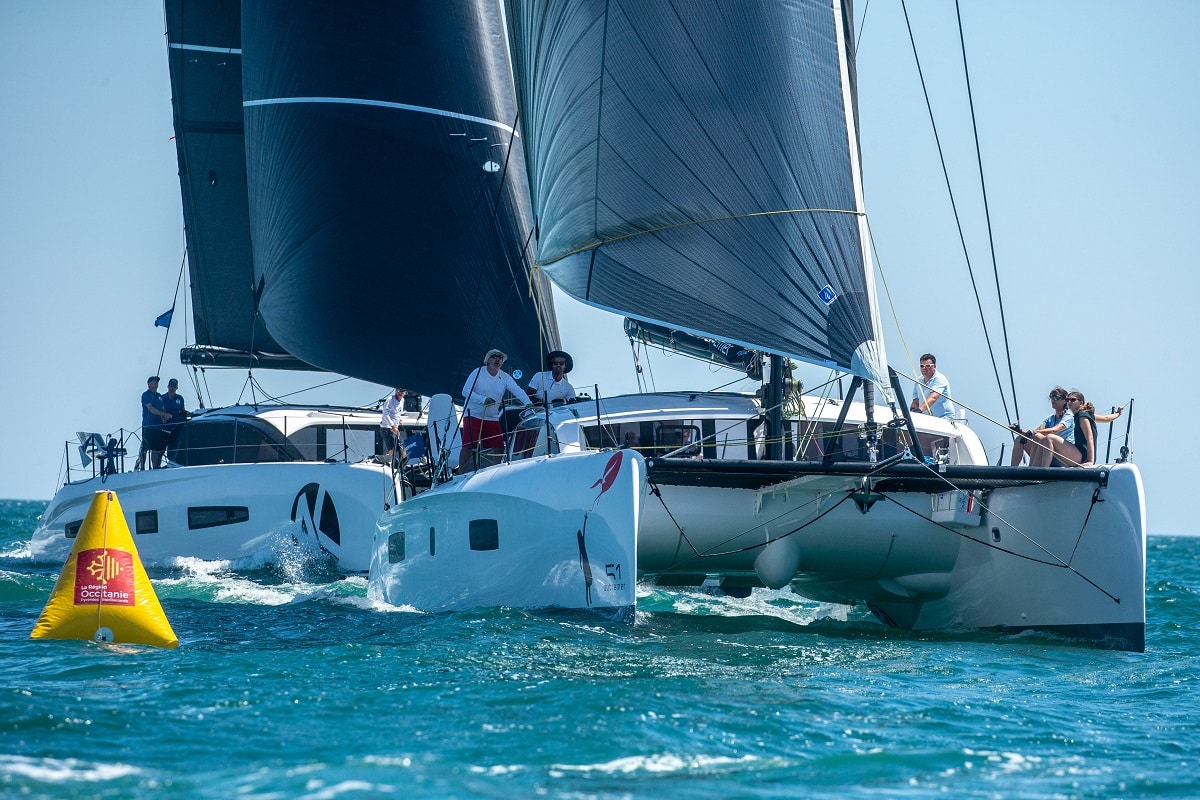 2. The weather  
"Is this detail really all necessary?" said a student to me recently. We were making a passage plan to travel the 75 miles from Ibiza to Mallorca. What would probably take the average cruiser a few minutes, had taken us a few hours. We were comparing different GRIB data models with the polars we had collected over the week of sailing the boat to try and plan the optimum crossing. 
I responded, "Good planning is the difference between an OK but bumpy cruising week with your family vs a smooth and seamless week where they all want to come back again."
Horror stories of family cruises are common. Anchor dragging at night, arriving too late at the port and not getting a berth, half the crew get sea sick – we all know how it goes (from experience!). My parents tell a story of anchoring out on Ryde sands in the UK and wondering why their gin and tonic was sliding off the table, to then realise that they had run aground and would have to wait out the 4-meter tide drop until they could leave. Thank heavens for the gin.
As promised, I'll avoid the weather and data lecture – but in summary – racing will teach you not just about how to make your boat move, but also about what weather is the best and what is to be avoided. The regular in-depth study of routing when racing means that when you look at a typical light-hearted cruising day, you will more easily spot the best plan, wind shift or which tack to go on first. This can be the difference of a few hours – which could mean being first or being last to the next anchorage and getting the best spot, or risk swinging into the rocks. You decide!
3. The sailor
I read in a book once, and then spent my career experiencing… the concept of 'comfort zone', 'stretch zone', and 'panic zone'. They are three circles in which we operate. 
As a teacher, ideally you should take students into their stretch zone as much as possible. This is where learning and growth takes place. Panic zone is the zone to be avoided at all costs. This is where people clam up and lose trust and confidence in themselves. At worst, the students may never want to sail again. Comfort zone, as the name implies, is a happy place. Very slow in terms of development, but brilliant to build confidence.
There are strong trends amongst new sailors for what they consider their 'panic zones' to be. The top of their list tends to include manoeuvring the boat under power in confined spaces, using a spinnaker/gennaker, and sailing in heavy weather.
A common complaint amongst students is that during these scenarios the atmosphere on board gets very stressful with lots of shouting.
"How are you so calm?" students asked me as we docked the 4X in 25 knots of crosswind on Outremer Week.
"You seem so relaxed letting us do this" the women remarked as I left them to set up and hoist the Code-0 in 15-20 knots of wind.
Unsure of exactly what to say, I answered, "I suppose, I've had a lot of practice."
On reflection of the week, I considered the question further. Am I actually calm? Or am I more of a swan; seemingly calm, but frantically paddling in stress beneath the surface? If the answer is yes – yes, I am genuinely calm, then why? How? Because one thing is for certain, I didn't and still don't always feel like that.
The start of the Sydney Hobart Race in 2017 was interesting evidence for this. Whilst a video showed me on the helm, silent, barely moving, looking very calm, the monitor around my chest revealed a different story: the adrenaline surge and stress of the last 10 second countdown to the race had elevated my heart rate to over 180BPM.
I concluded that I am (mostly) a calm skipper and leader because I have spent the last 10 years of my life primarily racing. Consequently, I have spent most of my career operating in my stretch and panic zones. Being in charge mid-ocean in a round-the-world-race takes away the option to 'quit' or 'clam up', so I learnt at a rapid rate how to deal with high pressure scenarios.
My students have mirrored this trend, and so will you if you go racing. You will experience this impressive rate of development and learning in very urgent or competitive environments. And racing is a way of creating this tension whilst keeping it fun.
Racing is not for everyone, and nor is cruising. But experiencing both will certainly make you the most well-rounded sailor. Cruising softens the hardened racer, and racing boosts the resilience and knowledge of the relaxed cruiser. If you are interested in chatting about this further, do get in touch as there is of course a whole host of different types of racing – inshore, offshore, big boat, small boat – and I'm happy to help you work out which is best for you to improve your cruising abilities.